| | | |
| --- | --- | --- |
| | Home -> Employee Monitoring Software | |
How to Spy on Employees
Employee monitoring software was designed for company administrators to monitor and supervise all their employee computers in realtime from one centralized position. Our NetVizor is your best choice which can be deployed over a business network in seconds and allow for easy centralized log viewing via one central networked PC.
All the network administrator has to do is point and click different users to view their activities! No physical presence is needed to monitor employees! Now network administrators can monitor large networks from one convenient, secure location! NetVizor is a scalable solution - so any network, from a small workgroup, to a large corporate structure, can be monitored by NetVizor!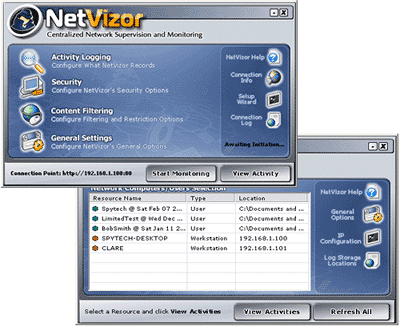 Top 4 frequently asked questions on NetVizor and employee monitoring
How does NetVizor monitor all my employees? Click here

to read how NetVizor works in your company network.
Can NetVizor monitor ALL employees on my network from one location?
Yes, that is the purpose of NetVizor. Once NetVizor is installed on each client on your network, you can view each PC from your central log viewer on your PC. As long as you are on the same subnet as the other PC's, you can view them with no problem!
How do I install/uninstall NetVizor over my network from one location?
Please refer to NetVizor's help documentation here - this is explained in detail.

What if employees use multiple machines during the day?
Not a problem. NetVizor can be setup to log roving users as well. Please, to NetVizor's documentation for setting this up - it is very simple to do, and it allows you to view individual users, no matter what PC they use on your network.
More Questions about employee monitoring software ->
Employee Monitoring Features:
Surveillance and Monitoring
NetVizor's logging capabilities are unmatched. NetVizor can log anything from what the employee types, to emails sent/received and programs they ran - all time stamped by date for easy viewing. All logs are easily saved and exported for later use. All of NetVizor's logs can be remotely viewed from a central location for easy activity management!

Keystroke Monitoring
Monitor and log all keystrokes along with the window they are typed in and time stamp.


Emails Sent and Received by all users
Monitor and log all emails sent and received by users of your company! All SMTP and POP3 messages are recorded for later viewing.


Events Timeline Logging
Log all events employees performed and view them in an organized chronically ordered listing. The Events Timeline lets you view what the events the user performed, in the order they did them. Events logged include Program Starts/Stops, Website Visits, Document Viewings and Printings, and more.


Internet Connections
Monitor and log all Internet sessions made on all PCs. This includes all FTP,HTTP, POP3, Chat Messenger, and any other TCP connections.


Internet Conversations
Monitor and log all chat conversations made on AOL, AOL Instant Messenger, Yahoo Messenger, MSN Messenger, and ICQ.


Website Activity
Log all websites visited by the popular browsers: Internet Explorer, Netscape, Opera, and America Online.


Window Activity
Log all windows in which the user directly interacts on the desktop.


Application Usage
Monitor and log all applications ran by employees - NetVizor logs when the application was started, stopped, and how long it was actually used.


Software Installations
Record software installations performed by users - software name, installation path, and time of installation is logged.


Documents Opened
Record documents and files opened and viewed by users.


Print Jobs Executed
Record documents and files that are printed by every employee.


Screenshot Capturing
NetVizor can take snapshots of your desktop at set intervals of time, allowing you to visually see what is happening. The ScreenShot capture manager also has a built in Slide show viewer for easy viewing.


Password Logging
NetVizor has the ability to log all passwords used during monitoring sessions via its keystrokes recorder.


Activity Logging
log all all system shutdowns and user log-ons, as well as NetVizor actions: starting/stopping of monitoring processes, option changes, log accesses, and failed access attempts to start/stop monitoring.


Remote Desktop Viewing
Grab screenshots of the remote computer's desktop - allowing you to remotely view a employee's computer.


Remote System Information Viewing
View a listing of various system information for the remote PC, including processor type, system directories, and more!



Remote Internet Connections Viewing
View a list of the current Internet connections on the remote machine!


Remote Recent Document History Viewing
View a list of the recent documents your employees have opened!

Realtime Remote Monitoring
NetVizor allows you to remotely view what the user is doing in realtime - what windows are open, what applications are running, and more!






Remote Administration Features
Netvizor has built in remote administration features that allow the administrator to remotely control remote workstations. NetVizor allows for remote workstation security auditing, remote application and windows management, file system browsing, system lockdown, and more!
Remote System Security Auditing
Perform a security audit on network workstations - our employee monitoring software can audit the remote workstations password and user policies, as well as improper registry settings, file shares, and Trojan/virus infections. Registry audits can be fixed remotely as well via the NetVizor web interface.


Remote File System Navigation and Management
Browse and navigate the entire file system of the remote PC. The NetVizor remote file system browsing feature allows you to download, delete, and launch remote files - all through your web-browser!


Remote System Lockdown Control
Lock and unlock the remote desktop from your web-browser! This allows you to keep a user out of the remote PC, without ever having to be present at the PC!


Remote Application/Task Management and Viewing
View all running applications on the remote PC in a convenient listing on your web-browser. Control and manage tasks by closing them with a single click!


Remote Open Windows Management and Viewing
View all open Windows on the remote PC's desktop. Close the open windows with a single click! Now you can control what Windows the remote user can see!



Remote System Mouse Freeze Control
Freeze and unfreeze the remote PC's mouse with a single click! Combine this feature with the Remote Lockdown command for powerful security and control of your remote PC!



Remote Website Launching
Launch a Website on the remote PC for the remote user to see!


Remote Application Launching
Our employee monitoring software can launch a program on the remote PC for the remote user to use!


Remote Message Display
Display a message for the remote user to read. This allows you to send warnings, or simple messages to the remote PC!


Remote System Shutdown/Restart/Logoff
Shutdown, Restart, or Logoff the remote PC from your web-browser with Netvizor!


Security and Stealth Features
Netvizor has a large array of security and stealth features. NetVizor is undetectable under all Windows versions (it does not even show up in the task manager on any Windows platform) and can circumvent popular third-party "spyware" detectors. NetVizor has powerful lockdown and logging scheduling features, optional startup warnings, and much more.


Stealth-Mode
NetVizor can run totally in stealth; that is, it is virtually undetectable to the user. NetVizor will NOT show up in the task manager under Windows - at all. NetVizor does not appear in registry and Windows startup utilities while it is running, either.


Log File Encryption
Netvizor has a built in encryption option that allows you to have all your NetVizor activity logs encrypted so others cannot stumble across NetVizor's logs or read them without using NetVizor's protected log viewers.


Logging Time Scheduling
configure NetVizor to monitor and record only when you want it to!


PC Lockdown Scheduling
schedule NetVizor to lock your PC down when you are not around!


Warning Screen
display a splash screen which alerts users they are being monitored by the NetVizor software (totally optional).


Password Protection
Our Netvizor is password protected to prevent easy monitoring termination and option changes.


Active Startup
run NetVizor already in active monitoring mode.


Windows Startup
run NetVizor when Windows boots up.


Idle Time-out
NetVizor will stop logging when the user is inactive for a specified amount of time, when they are active again NetVizor resumes logging.


AutoClear
you can set NetVizor to clear your monitoring logs every xxx number of actions logged, or every xxx number of keystrokes entered. This provides for minimal usage of processor speed and disk space.


IP Allowance Configuration
Netvizor allows you to specify a list of IP addresses that may access the NetVizor controlled remote PC. This allows you to restrict access to IP addresses within your local network, or to only certain static IP addresses!


Access Restriction Configuration
NetVizor allows you to configure what remote options you can access through your web-browser. You can disable any features of your choosing!


Spyware Detector Disabling
Configure NetVizor to disable popular spyware detectors that may interfere or detect NetVizor running!






Content Filtering Features
Netvizor not only acts as a powerful spy software solution, but also as a content filtering tool. NetVizor can filter websites from being visited, applications from being ran by the user, and even chat messengers from being used while NetVizor is active.
Easy to Use!
Netvizor has always been known as being extremely easy to use. You can have NetVizor setup and monitoring in seconds with its built in easy configuration wizard and intuitive graphical interface. NetVizor can even be tweaked to smoothly monitor slower PC's!


System Requirements
Windows 95,98,ME,NT4,2000,2003,XP or Vista!
Pentium Class PC (133mhz or higher)
3MB Hard disk space
Windows TCP/IP Network

| | | |
| --- | --- | --- |
| | NetVizor Info | |
| | |
| --- | --- |
| Platform: | Windows (All) |
| Version: | 4.0 |
| File Size: | 2.9 MB |
| 24/7 Support | Yes |
| | | |
| --- | --- | --- |
| | NetVizor Pricing | |
| | |
| --- | --- |
| 1 - 5 Licenses | $295.00 |
| 6 - 10 Licenses | $495.00 |
| 11 - 25 Licenses | $895.00 |
| 26 - 50 Licenses | $1,095.00 |
| 51 - 100 Licenses | $1,595.00 |
| 101 - 250 Licenses | $2,995.00 |
| 251 - 500 Licenses | $3,995.00 |
| 500+ Licenses | $4,995.00 |
| | | |
| --- | --- | --- |
| | Spy Products | |
| | | |
| --- | --- | --- |
| | User Testimonials | |
Thank you very much!
I think your spy software is very well engineered and are useful for employee monitoring in a real-world IT environment.
Regards,
Jim H.
A+, MCP
Technician
Solectron Texas

-------------------------------
With your help I have been able to give proof that harrasment happened to my daughter from one in her class..
I also have to say, that I am honored to be a reseller of your products, and you also give a superb service, when things are getting diffcult.. My best compliments to you and your company.
Jan-Frode B.
-----------------------------
Trully excellent service and my sincere thanks. Perhaps you should diversify your skills into educating the world web markets on how great customer service can be achieved, If you wish to use this in your marketing please feel free.
Brian W.
------------------------------
As advertized, 007 Spy Software worked perfect. Very easy to install and deploy. I have allready suggested it's use to several other people.
Thank you,
Fred
------------------------------
Hi,
I¡¯m just writing to say that your employee monitoring software is one of the best I¡¯ve tried. I played around with a program called <competing product>, mainly because of it¡¯s remote-installation capabilities. Only to discover that <competing product> won¡¯t let Windows XP shut down properly unless it¡¯s task is ended. And I tried programs by <competing company>, but their user-interfaces were lacking in many areas and needlessly complex. And then I tried your product. Firstly I appreciate the fact that you can evaluate the product before purchasing, and secondly I really like it¡¯s advanced reporting features. So I would just like to say congratulations, a job well done.

Sincerely,
Cory M.
--------------------------------
The program looks Excellent Im just waiting for the user to log on to check it out thanks for making such a useful program I am now at rest!
<name witheld for privacy>
---------------------------------
Your spy software worked great! I found out my wife is sleeping with her boss and I no longer require your services. I would like to have my membership canceled. I AM NOT asking for a refund.
<name witheld for privacy>
---------------------------------
Every time I have had any questions or problems your support has always been prompt and accurate with there response.They have never left any question or part of any question go unanswered. I would recomend this employee monitoring software to anyone with the need to monitor a network. The software is great and the support is equal in quality.
Kevin