Free Spy Software Downlaod
Please feel free to download and evaluate the free trial version to get a better understanding of our products. We always take full virus detection on the files before we release them to the public.
100% Virus Free and Spyware Free Guaranteed!
Already tried our software? Order the full version now ->
Version: 3.95
File Type: .ZIP
File Size: About 1.7MB
License: Key-Protected Full Version for 15 Days Free Evaluation
System Requirements: All Windows Platforms, 5MB disk space, 64MB RAM


Important!!! The password you need to unzip: 007
---
Note:

1) If your anti-virus program (such as Symantec, McAfee etc) warns you about 007 Spy, please simply instruct it to allow/trust 007 to download/run. This is caused by false classification since anti-virus programs do not like keylogger/spy software. We assure that all our products are 100% Virus Free and Spyware Free!

2) Some web browsers (primarily Internet Explorer) check files you are about to download and run for an "authenticode signature." An authenticode signature proves that this file comes from a trusted source. It is very difficult and expensive to set up authenticode signatures, so most files on the Internet do not have them. If the file does not have an authenticode signature, your browser may (depending on your settings) display a warning message. All this message means is that your browser isn't sure if it can trust this file, so it's giving you a warning before it does anything. Since you are (presumably) downloading and installing this product directly from us, you should feel comfortable installing it, despite your browser's warning.
For your reference we list some screen snapshots of 007 standard edition here:
KeyStrokes Logs: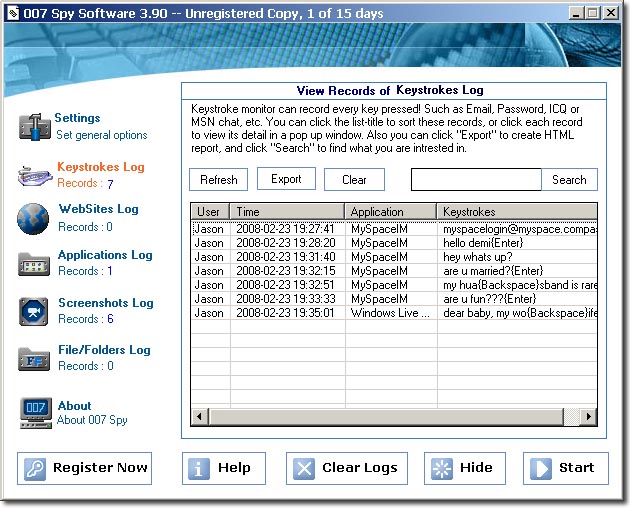 Keystroke Logs Detail: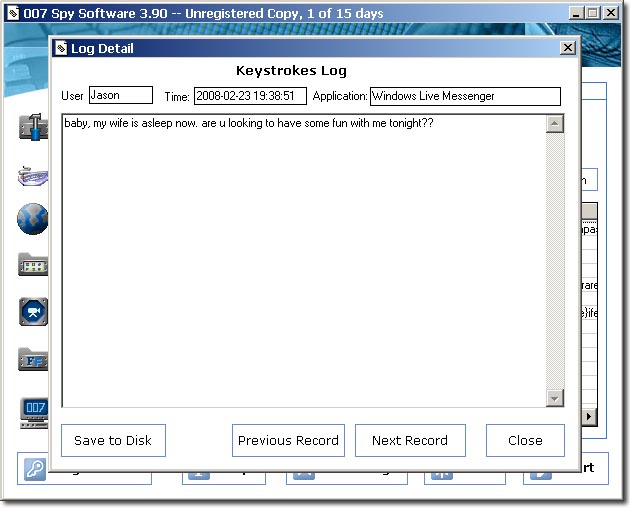 Application Launched and Closed: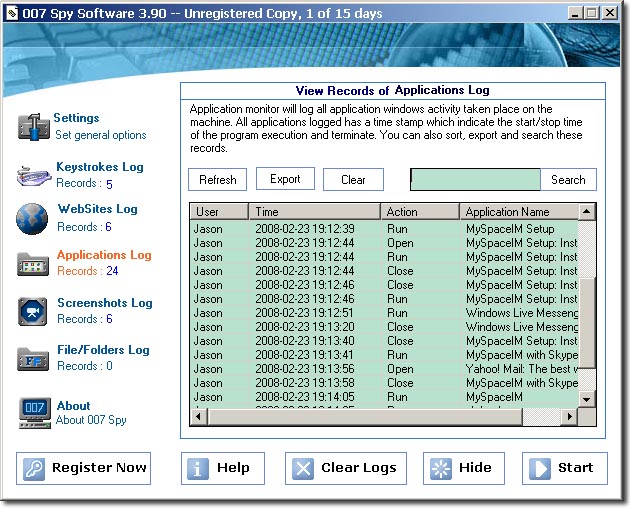 Setting Panel: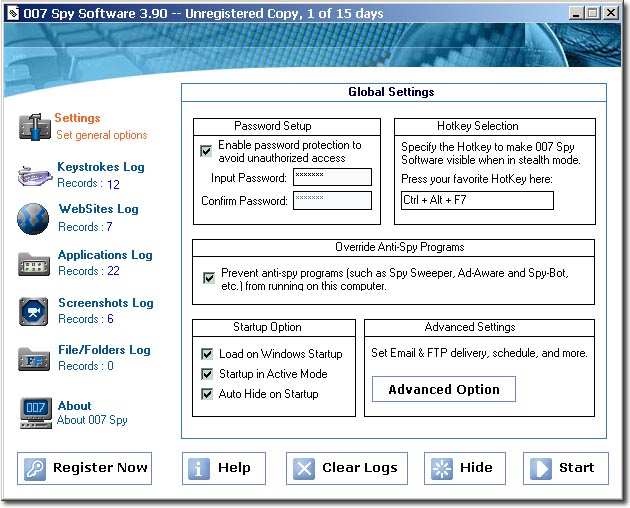 Advanced Options: