007 SpyAgent - Editor's Choice Spy Software
We are awarding the Editor's Choice of local computer monitoring to SpyAgent&reg, for being so full-featured, easy to use and reasonably priced. It allows you to secretly monitor user's ALL activities in TOTAL STEALTH mode, including all popular Web browsers usage, windows open/closed, document printed, every key pressed (including login/password of all kinds of programs), application executed, Both sides of IM conversations, Email sent/received. Let us show you how to spy with this powerful monitoring tool as below.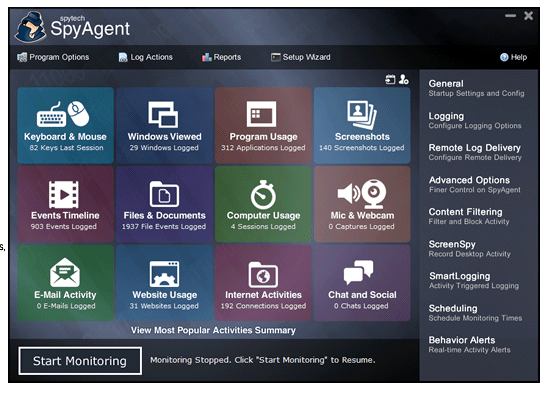 Security Features:

Stealth-Mode
SpyAgent can run totally in stealth; that is, it is virtually undetectable to the user. SpyAgent will NOT show up in the task manager under Windows - at all. SpyAgent does not appear in registry and Windows startup utilities while it is running, either. [view screenshot]


Log File Encryption
SpyAgent has a built in encryption option that allows you to have all your SpyAgent activity logs encrypted so others cannot stumble across SpyAgent's logs or read them without using SpyAgent's protected log viewers. [view screenshot]


Security Settings
Toggle various Windows security settings to make it harder for users to trace and bypass SpyAgent - such as the ability to disable the system clock's time/date settings, or to access the Windows task manager. [view screenshot]


Spyware Detector Disabling
Configure SpyAgent to disable popular spyware detectors that may interfere or detect SpyAgent running! Download the latest Spyware Detectors Database Update for use with SpyAgent here. [view screenshot]


Log File Backdating
SpyAgent can be configured to backdate all log files it creates so that they appear older than they really are. This will make it impossible for users to find log files by performing system searches for most recently modified files. [view screenshot]


Forced Hidden Files
Configure SpyAgent to force hidden files - if a user tries to enable hidden file viewing within Windows SpyAgent will instantly disable hidden file viewing again. [view screenshot]


Logging Time Scheduling
Configure SpyAgent to monitor and record only when you want it to! [view screenshot]


PC Lockdown Scheduling
Schedule SpyAgent to lock your PC down when you are not around! [view screenshot]


Warning Screen
Display a splash screen which alerts users they are being monitored by the SpyAgent software (totally optional). [view screenshot]


Password Protection
SpyAgent is password protected to prevent easy monitoring termination and option changes. [view screenshot]


Active Startup
Run SpyAgent already in active monitoring mode. [view screenshot]


Windows Startup
Run SpyAgent when Windows boots up. [view screenshot]


Idle Timeout
SpyAgent will stop logging when the user is inactive for a specified amount of time, when they are active again SpyAgent resumes logging.


Instant Log Retrieval with a Portable or USB Drive
SpyAgent allows you to quickly retrieve activity logs when time is an issue. If you only have a few moments to retrieve logs you can insert an authorized USB or portable drive into your computer which SpyAgent will then copy activity reports to - all without having to stop SpyAgent and access it. An optional notification sound plays when the copy completes. [view screenshot]


AutoClear
You can set SpyAgent to clear your monitoring logs every xxx number of actions logged, when logs reach a specific size, or every xxx number of keystrokes entered. This provides for minimal usage of processor speed and disk space.


Quick Installer for Portable Drives
SpyAgent can duplicate a copy of itself, including settings, onto a portable drive for quick installations on other computers.


AutoRemove Self-Uninstall
SpyAgent can be set to automatically uninstall itself from your computer on a set date. When SpyAgent uninstalls itself it can be configured to remove all settings and log files. [view screenshot]


AutoArchiving
SpyAgent can be set to automatically archive(backup) your activity logs to a specified location at desired time intervals. Logs can be cleared after the archive process is performed, if needed.


Configurable Stealth Mode Hotkey and/or Key Phrase Access
SpyAgent allows you to configure its hotkey pattern to whatever key combination you want - making it harder for others to stumble across SpyAgent! In addition, the hotkey can be disabled and a random key phrase you choose can be used to access SpyAgent. Simply type the key phrase in any window to access SpyAgent's password prompt.


Deploy Utility
SpyAgent has a built in deploy utility that prevents it from being task ended from the task list, or any other process manager.






Advanced Features:

Application Filtering - allows you to manage a list of applications that you wish to have disabled while LocalKeylogger is running.


Website Filting - Prevent particular website's or keywords contained within the address from being viewed while LocalKeylogger is active.


Log Filtering- Easily view recorded log data by date.



Custom Log Location- Configure LocalKeylogger to store log data wherever you please - whether it be on the local machine, a network drive, external disk, or anywhere else!

Inactivity Timeout- Automatically suspend LocalKeylogger from monitoring the PC if the machine is inactive for a specified amount of time.

Scheduling Agent - Configure LocalKeylogger to only monitor and record at specific times of the day.

Automatic Log Clearing- LocalKeylogger can automatically eradicate old/outdated logs from the machine after a certain amount of data or keystrokes have been logged. .



And More......
Friendly User Interface - LocalKeylogger contains an extremely easy-to-understand (yet very powerful) graphical user interface. Thus, allowing you to familiarize yourself with the software in little to no time at all!


Quick Configuration Wizard - LocalKeylogger comes with its own, highly powerful and easy to use configuration wizard. This utility will help you get up and running with LocalKeylogger in just minutes!


Precise User Tracking - LocalKeylogger will ALWAYS logs the current Windows user and the time and date an action if performed. This will allow you to precisely track activity down to the exact user, at the exact time it happened.


Helpful Documentation - LocalKeylogger includes a great help file to help you answer any possible questions you may have concerning LocalKeylogger.


24/7 Technical Support - With your purchase comes a guarantee of technical support from our around-the-clock online technical support team.