Email Spy
- Secretly records all incoming/outgoing emails in your computer!
Email Spy is the best selling, widely known internet e-mail recording software which allows you to secretly record ALL incoming and outgoing emails via OutLook, OutLook Express, Eudora, Netscape, ALL America Online e-mail's, etc.
Aside from Email Spy's unbeatable monitoring capabilities, Email Spy offers an advanced security backbone that prevents users from tampering with the software. Email Spy also contains powerful reporting and e-mail filtering options - allowing you to efficiently and effectively record, review, and analyze e-mail's.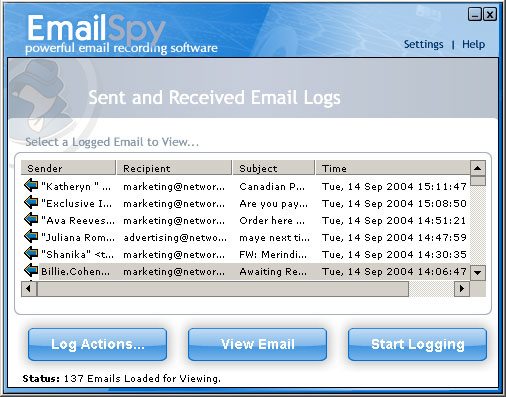 Monitoring Features
Record All Incoming and Outgoing Emails
All pop3 and smtp emails will be recorded for easy viewing through the EmailSpy software. Included is the full message, subject line, complete header information of the email, sender, and recipient. See an example email that has been recorded by clicking here.

Archive Reports
Your logs can be archived on disk easily with one button. You may also clear reports at anytime.

Remote Viewing of Reports / Email Forwarding
EmailSpy also includes the ability to secretly forward incoming emails, outgoing emails, or both to an email address you specify! This allow you to view emails from another computer at work, in another room, a hotel, etc without ever touching the computer you are monitoring!

Search Logs
EmailSpy allows you to search the emails it has recorded for seaarch criteria you enter. This allows you to quickly find all emails by sender, recipient, or other key words with the emails recorded.


Security and Stealth Features
Password Protected
The only way to access EmailSpy settings and reports is by hitting a unique hotkey combination on your keyboard and then entering your password to access the software. Both the hotkey and password are chosen by you.

Disable Windows Boot Keys
This option makes it impossible for users to bypass EmailSpy by booting in safe-mode.

Disable Windows Task Manager
This option makes it impossible for users to end-task EmailSpy or manipulate other processes.

Disable Program Startup Override
This option makes it impossible for users to bypass EmailSpy by holding down the Shift key at Windows startup.

Disable Clock Changes
This option makes it impossible for users to change clock settings to prevent change in log timestamps.

Encrypt Logs
This option allows you to encrypt all logs created by EmailSpy.

General Settings
Automatic Loading
EmailSpy can automatically load on all users or only the users you select at Windows startup.

Active Mode
EmailSpy can automatically load in active mode so it begins monitoring whenever it is loaded or at Windows startup for the users selected.

Stealth Mode
EmailSpy can automatically load in stealth mode so it is totally hidden to all users.

Optional Splash Screen
You can choose to display a splash screen as an option at startup to notify users EmailSpy is monitoring their emails. This message can be customized as seen here. This is great for employers who want employees notified their emails are being recorded.

System Requirements
Windows 95, 98, ME, NT4, 2000, or XP
Pentium Class PC (133mhz or higher)
3MB Hard disk space