ChatBlocker
- Internet Chat Recording and Restriction Software
Are your children spending too much time chatting? Are employees chatting and getting off task in the office? ChatBlocker is the award winning desktop parental control application for moderating and restricting chat conversations!
With ChatBlocker, you can easily setup time slots in which you wish to allow chat conversations - and when you do not want to allow them. ChatBlocker uses an advanced, low level approach to blocking chat conversations to ensure that they do NOT take place. When coupled with ChatBlocker's powerful security features, it's powerful stealth mode feature, and remote log viewing capabilities (via e-mail) - it makes ChatBlocker must have for any parent, employer, or anyone else looking to moderate Internet chat's! Read on to find out more about ChatBlocker's comprehensive features...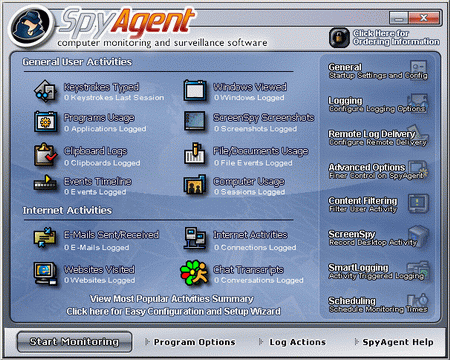 Chat Blocking & Filtering Features
Chat Blocking

ChatBlocker utilizes an advanced heuristic-based technology that intelligently blocks and filters chatting and instant messages. Below is a list of chat and instant messaging platforms that ChatBlocker is currently compatible with.
America Online
AOL Instant Messenger
AOL Instant Messenger Express
Excite Messenger
MSN Messenger
Odigo

Yahoo! Messenger
Windows Messenger
Dead AIM
Trillian
Extreme Messenger
ICQ / ICQLite
mIRC
Application Blocking

Aside from ChatBlockers advanced chat and instant messaging blocking functionality, ChatBlocker can also block and filter selected applications from being used by the user of the computer. Perfect for moderating online gaming when you aren't around!
Chat Logging & Recording Features
ChatBlocker comes fully equipped with chat recording functionality to record chat's and instant messages when chatting is permitted. Below is a list of compatible chat applications that ChatBlocker can record for your later viewing.

America Online
AOL Instant Messenger
MSN Messenger
Skype

Yahoo! Messenger
Trillian
ICQ

Click here for a screen shot of Chat Recording Options.
Advanced Scheduling
Everyone's schedule is diferent. That is why ChatBlocker offers a completely customizable scheduling wizard to ensure regardless of who is using your computer, you can fine tune it to any extent. With ChatBlocker's intelligent scheduling wizard, you can effortlessly create time slots (by day, weekdays, or weekend) where chatting is permitted, and when chatting is NOT permitted. When chatting is permitted, ChatBlocker will record all instant messages and chats. When chatting is NOT permitted, ChatBlocker will deny, block, and prevent all attempts to chat.
Automated Reporting
ChatBlocker comes with a robust, easy-to-use reporting tool. The report generator within ChatBlocker will generate a sleek report for you to review. This report outlines all of that chat applications that were attemped to be used, as well as how many times each individual chat platform was attempted to be used. Reports are automatically e-mailed to your inbox so that you are always up to date with what users of your computer are doing.
Security Features
Optimal Stealth Mode - ChatBlocker offers unparalleled stealth mode features. ChatBlocker has the capabilities to hide itself from every Windows operating system, thus ensuring that when you put it in stealth mode, it will be completely hidden from the user!


Safe Mode Disabling - Prevent the user from entering in Safe Mode (in an attempt to bypass the ChatBlocker system).


Task Manager Disabling - Disable the user from accessing the Windows Task Manager while it is blocking chat conversations.

Disable Startup Program Overriding - Disable the hotkey that allows users to bypass startup applications (ChatBlocker) when Windows boots up.
Additional Features
Windows Startup - Configure ChatBlocker to startup for a single user, or to start up as a service for all users on the system - perfect for monitoring and restricting chats on multi-user PC's.


Customizable HotKey - For total concealment and protection, ChatBlocker allows you to customize the default hotkey.


Automatic Active Startup - Automatically start ChatBlocker in "Active Blocking Mode" or "Active Schedule Mode" when it is executed (thus requiring zero interaction on your part!)


Password Protection - ChatBlocker is password protected to prevent others from starting/stopping the chat conversation monitoring process, as well as exiting ChatBlocker from chat restriction mode!


Alert Message - Configure a message to appear each time the user attempts to initiate a chat conversation while ChatBlocker is actively prohibiting chat conversations.


E-Mail Log Delivery - ChatBlocker can automatically alert you via e-mail every often if users of the machine have attempted to initiate chat conversations, or bypass the ChatBlocker blocking engine. Perfect for remotely keeping tabs on the machine while you are away!

Thread Priority - Adjust ChatBlocker to adapt to your system. Using the built in Thread Priority utility, you can make ChatBlocker run as fast as you need it to depending on your systems specifications!

... And more!
Easily Transferable - ChatBlocker allows you to import/export your settings, so that if you have installed ChatBlocker on multiple machines, you can easily transfer your settings across a network.


Friendly Interface - ChatBlocker contains an extremely easy-to-understand graphical user interface, which will allow you to familiarize yourself with the software in no time!


Helpful Documentation - ChatBlocker includes a great help file to help you answer any possible questions you may have concerning ChatBlocker.


24/7 Technical Support - With your purchase comes a guarantee of technical support from our around-the-clock online technical support team.